The Chicotsky Real Estate Group at Briggs Freeman Sotheby's International Realty is owned by husband-and-wife realtors David and Michaela Chicotsky. They take a unique, hands-on approach to the real estate business; leveraging the global marketing reach of Sotheby's International Realty, along with utilizing their deep-seeded local knowledge of the real estate market.
The Chicotsky last name has been recognized in the greater Fort Worth area since 1913, thanks to the hard work and good will of numerous members of the family taking on civic and economic leadership roles, giving back to the community, and helping build the city that we all know and love today.
Aside from the family's real estate interests in the area which have spanned over 100 years, they owned Chicotsky's and Monticello Market grocery stores, they were partners in a farm associated with what is currently Mira Vista, they were owners of Kragen Auto Parts stores which was acquired by O'Reilly Auto Parts, relatives founded 'Ol South Pancake House, David's great grandfather was the President of the Jewish Community at Ahavath Sholom and founded Carshon's Deli - the oldest restaurant in town, the family currently owns and operates the oldest liquor store in Texas, opened the day after prohibition. In 1949 David's grandfather who he is named after, purchased two acres of land on West 7th St. lining up with the Will Rogers Memorial Center where he built Chicotsky's Shopping Center, the largest shopping center in the city at the time.
The connections to the community in Fort Worth and the surrounding Dallas-Fort Worth area are numerous and valuable for clients of the Chicotsky Real Estate Group; giving buyers and sellers alike a competitive advantage, allowing them to efficiently navigate the ultra-competitive real estate market. When David and Michaela Chicotsky and their team at Briggs Freeman Sotheby's International Realty list a property for sale, they are aiming for top dollar every time. When representing buyers, David and his team understand getting the house they desire under contract is paramount and they aggressively act on their behalf. Working with the Chicotsky Real Estate Group at Briggs Freeman Sotheby's International Realty ensures a competitive and reputational advantage, with a last name people trust and recognize, alongside the top international luxury brand which every local real estate agent respects.
Agents at the Chicotsky Real Estate Group have in-depth knowledge about the countless neighborhoods and sister-cities surrounding the greater Dallas-Fort Worth metroplex. When purchasing or selling a home, a ranch, undeveloped lot or raw piece of land, or a commercial property, all perspective properties are compared to the comps in the area to make sure you're getting the most if you're selling and paying the least if you're buying. Owner of the Chicotsky Real Estate Group, David Chicotsky, has an economics degree and game theory background - he goes the extra mile to break down the numbers for you and helps develop a strategy that best fits your needs.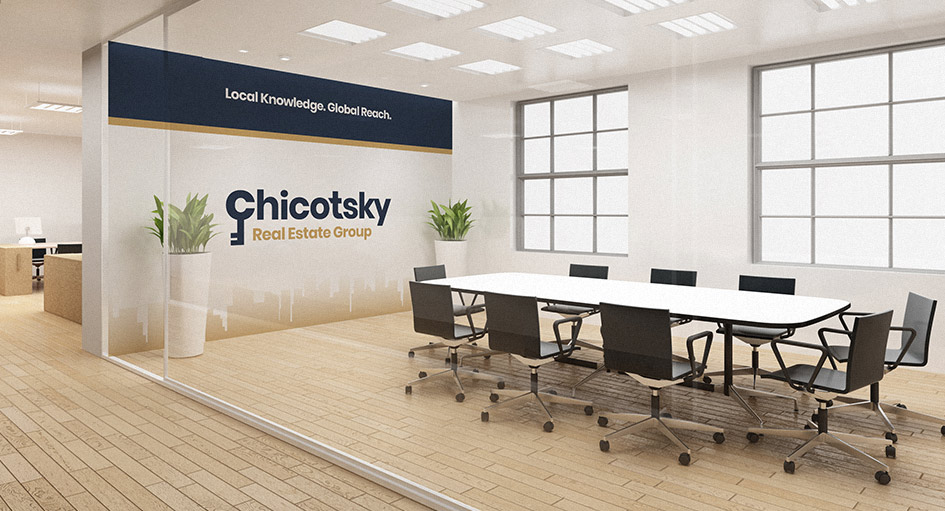 Aside from running comps for homes that have sold in the past 180 days in the immediate area, David utilizes CMA's (comparative market analysis) to further flesh out the pricing-related statistics. As fans of the philosophies and insights of financial expert Dave Ramsey, we agree with his prognosis, "A good financial advisor equips you to make smart decisions about your investments. Most importantly, they must have a heart of a teacher." Having a well-qualified agent with a math and statistics-based economics background allows a client to get a better understanding of what the numbers surrounding their subject property mean for their particular sale or purchase.
Specialists in various real estate areas are brought in for certain unique land and ranch or commercial property situations. We believe in an 'all hands on deck' mentality, where several agents will work in tandem to get more done and in a faster time frame than one single agent. Whether that's marketing a listing for sale or searching for a home for a buyer, it's important that agents within the group are aware of seller and buyer needs in order to be most effective for clients. Agents for the Chicotsky Real Estate Group work unconventional hours; it is not uncommon to do showings for buyers before work or in the evening hours. We pride ourselves on working around your schedule, not the other way around; making the buying or selling experience as frictionless as possible for you.
Our agents have refined unique purchasing strategies for traditional buyers, as well as investors. There's more to putting in an offer than just coming up with the price. Other important considerations include earnest money, title policy, supplemental title policy, option fee, residential service contract, survey, date of closing, financing options, addressing appraisal related contingencies, closing costs, along with many other factors. Being an expert at getting a house under contract as a buyer's agent, aids in the knowledge of how to keep a property under contract when representing sellers. There are 27 ways a house can fall out of contract, we know the pitfalls to stay away from and the best practices to employ.
For the sale of a home or property, our dedicated marketing team works to put together a comprehensive marketing plan. It's our goal to get you the most amount of money in the shortest time frame possible. The main impetus for our success selling properties revolves around our ability to directly market to the roughly 18,000+ real estate agents in the North Texas D/FW area. We measure the progress of a listing by the number of agents that send your property to their clients. These thousands of agents are catalysts towards attracting you buyers. We're also able to draw from our 9 offices in the D/FW area and 800+ Sotheby's International Realty brokerage partners around the world.
We're bringing our own buyers inhouse through the worldwide Sotheby's International Realty network 38% of the time for our listing. No other luxury real estate brand can compete with these numbers, in fact there isn't a company operating locally that brings buyers to their listings at even half of that rate. We've worked very hard and are proud to be the top selling luxury real estate firm in Fort Worth. We don't just call ourselves the top luxury brokerage in D/FW, the numbers strongly support this notion.
We represented D/FW clients in the purchase or sale of nearly $4 billion dollars in real estate last year. Our nearest competitor in the luxury real estate market is down 14.5% year over year, with the vast majority of that business being picked up by our brokerage. The reasons for our success are simple: we're led by the most honorable man imaginable in Mr. Robbie Briggs who personally hired and has been a mentor to David and Michaela Chicotsky, we have the built-in Sotheby's International Realty network around the world to attract buyers to listings, and we have proprietary tactics for helping buyers secure the property of their choosing.
Our resource list of inspectors, contractors, title companies, and mortgage brokers will provide you with trusted support personnel who have successfully worked with past clients. The Chicotsky Real Estate Group is client-focused; we're not just in the real estate business, we're in the business of making sure clients are extremely well taken care of along the way.