The Chicotsky Real Estate Group works with buyers and sellers interested in golf course properties or homes near prominent golf courses in and around Fort Worth. Homes with golf course views sell for substantially more money on a price per square foot basis, with demand for these properties surpassing that of a typical house. Golf in the D/FW area is more popular than ever and golf communities surrounding the courses will continue their price appreciation.
Although Fort Worth is known for many things, one of the most underrated aspects about this great city is the rich history golf has had in these parts over the last 120 years. Augusta, Georgia and the Monterrey Bay may be home to the most famous golf courses in America, but many of the game's greatest players, famous anecdotes, and historic golf courses have made their way through, and continue to make their way through Fort Worth. From incredible private clubs to some of the best public courses in the state, there is a golf course for every budget and skill level in Fort Worth. We wanted to examine this history and show how much the game of golf means to this amazing city.
Golf in Fort Worth, Texas began at the famed River Crest Country Club in 1911 (also commonly written out as Rivercrest Country Club). The golf course was first designed by the duo of Tom Bendelow and A.W. Tillinghast. The pedigree of these two golf course architects cannot be overlooked: both would go on to design several high-profile courses across the country, many of them hosting multiple major golf championships.
River Crest Country Club was certainly ahead of its time, as it was one of the first country clubs to include residential zoning on its property. Located in the heart of the Crestline Area in Fort Worth, the residences within the golf club's grounds are amongst the highest-demanded real estate areas in the Dallas-Fort Worth region and can sell for as high as $400 or $500 per square foot.
The club has hosted some of the game's legendary figures. After his near-fatal car crash, Texas native and golf legend Ben Hogan would utilize River Crest for his comeback to professional golf in 1949. His comeback would eventually lead to one of the greatest seasons in professional golf history when, in 1953, Ben Hogan would win five of the six tournaments he entered. Three of those tournament wins were the first three major golf tournaments of the season: The Masters, the U.S. Open, and the Open Championship. The Open Championship was an especially unique victory considering it was the only time he had participated in the golf tournament and would be his only appearance. It would be another 47 years after his historic Triple Crown season before his record of three majors in a single season would be matched by Tiger Woods. River Crest would also be the location for a scene shot in "Follow the Sun" - the 1951 film about Hogan's early years, car accident, and subsequent recovery.
Babe Zaharias, one of the pioneers of women's golf, spearheaded the Texas Women's Open, which was held at River Crest Country Club for over twenty years. She would win the Texas Women's Open four times: 1945-46, and 1951-52. Babe Zaharias is most famous for being the first female to ever compete in a PGA Tour event at the 1938 Los Angeles Open.
Two other prominent women golfers would start their legacies at River Crest: Polly Riley, a Texas-native, would win two Women's Texas Open titles in 1948 and 1955.  She would spend her career as an amateur and is most well-known for winning the first LPGA Tour event ever played, the 1950 Tampa Open. Aniela Goldthwaite, a member of the Texas Golf Hall of Fame, would win three Texas Women's Open championships, two of them at River Crest.
Over 100 years later, River Crest Country Club remains one of Fort Worth's premier golf and social clubs and serves as a landmark for both the men's and women's professional game in America.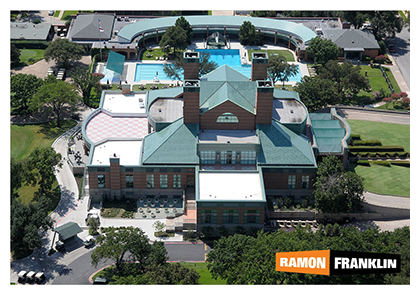 A short drive from River Crest Country Club, down Camp Bowie Blvd, you'll find Ridglea Country Club. Situated in the affluent Ridglea Hills neighborhood, Ridglea Country Club has offered one of the finest golf experiences in Fort Worth for over sixty years.
The club has two 18-hole regulation length golf courses: the Family Course and the Championship Course. The Family Course, which was first built in 1928, is the easier of the two courses, and offers a fun, yet fair, test for golfers of all abilities. In 1968, the Championship Course was added; a Ralph Plummer design, it is considerably longer than the Family Course, and more difficult.
Ridglea Country Club also offers tennis, a well-equipped fitness center, pool, and a full schedule of social events which suit a wide variety of tastes and age groups. No matter how much golf you play, living in this area and belonging to this country club is a worthy investment.
Despite being one of the best country clubs in Fort Worth, Ridglea Country Club has not hosted many golf tournaments at the highest level. Nonetheless, it has been host to some of the most famous matches in Fort Worth golf history.
During the first couple decades of the PGA Tour, it was almost impossible to make a living playing professional golf tournaments. Golfers with high levels of talent typically had two choices: work as a club pro in-between tournaments, or hustle golf matches all across the country.
The most prolific golf hustler from the mid-twenties through the post-Depression era was a Missouri-native named Titanic Thompson. Always looking for action, Titanic made his way through Fort Worth and found a young talented player by the name of Byron Nelson. For those who are unfamiliar with the name, Byron Nelson would go on to have one of the greatest professional golf careers in history despite retiring at the age of 34. In 1934, Nelson and Thompson would play an 18-hole match at Ridglea Country Club for $2,000 (over $37,000 today). Despite not being a gambler, several members at the club posted the money for Nelson, who would beat Titanic by two strokes with a 69. However, prior to the match, Thompson had convinced the members to spot him three strokes, resulting in Titanic taking the money. It would be the first of many high-profile matches the late Titanic Thompson would be a part of in Texas, and it all started at Ridglea Country Club.
About eight miles south of Ridglea Country Club sits another of Fort Worth's incredible private country clubs: Mira Vista Country Club. Those who seek the very finest in real estate will love the Mira Vista neighborhood with some of the most spectacular views and landscaping you'll find in Fort Worth. It's the only gated golf country club community in the city!
The golf course at Mira Vista Country Club is truly a thing of beauty. The design was a collaboration between renowned golf architect Jay Moorish and 1973 Open Champion Tom Weiskopf. It is the youngest of Fort Worth's immaculate private country clubs, having opened in 1987, and continues to provide an incredible experience for its members.
The golf courses we've featured thus far are all magnificent, but they pale in comparison to Colonial Country Club, which is the most historic, exquisite, and popular golf course in all of Fort Worth.
Colonial Country Club borders the historic Texas Christian University, and although there are no houses on golf course property, the Colonial Hills neighborhood features some incredible homes in one of the best neighborhoods in Fort Worth.
The beginning of Colonial Country Club is an interesting one, created out of one wealthy businessman's sheer determination to have a specific breed of grass on the greens.
Marvin Leonard, known in Fort Worth as "Mr. Marvin" earned a fortune in the retail industry. Having developed a love for the game of golf, he became familiar with the different types of turf used on fairways and greens. The most common grass used on golf courses in the 1930s in Texas was Bermudagrass; however, Mr. Leonard was adamant about having a golf course with bentgrass greens. His reasoning was simple: Bermuda tends to be bumpy, especially as the day gets later, but bentgrass stays smooth throughout the day. The main issue, and the reason even the most well-funded courses didn't implement bentgrass on their greens, is it is highly susceptible to burning out in high-heat climates. Determined to make bentgrass greens a reality in North Texas, Marvin Leonard was urged to build his own course, which is how Colonial Golf Club came into existence.
Opening in January 1935 with about 100 members, Marvin Leonard had big plans for his new course, which included staging a U.S. Open Championship one day. Six years of negotiation later, Colonial Golf Club would become the first golf course in the state of Texas to host our national golf championship, which was won by Craig Wood.
The next year, Marvin Leonard would offer his members the opportunity to own Colonial instead of him. Although it wasn't an easy transition, on New Year's Eve 1942, the club officially became known as Colonial Country Club.
Colonial has since hosted two other significant golf tournaments for both the men's and women's game: the second edition of the Tournament Players Championship, held in 1975, and the 1991 U.S. Women's Open. However, Colonial Country Club is best known for its continued hosting of the annual PGA Tour event, which it has done since 1946.
Starting as the Colonial National Invitational, it is the longest running tournament on the PGA Tour which has been hosted at the same site. The winners at the Colonial tournament are some of the biggest names in the game: Sam Snead, Jack Nicklaus, Arnold Palmer, Lee Trevino, Tom Watson, Lanny Wadkins, Ben Crenshaw, Nick Price, and Phil Mickelson have all been inducted into the World Golf Hall of Fame and have won hundreds of PGA Tour events and several major championship. There's one name that is missing in that list, and it's because he deserves a section of his own: Ben Hogan.
When golf fans think of Colonial, they often think of Ben Hogan, a five-time winner of the event. It's hard not to think of him: anyone who plays the course, or watches the tournament on TV, will inevitably see the statue of him in his signature follow-through position. He won the first two tournaments held at Colonial in 1946-47, then added two more in 1952-53. His final PGA Tour victory would also take place at Colonial Country Club in 1959, at age 46. Colonial Country Club is colloquially known as "Hogan's Alley" and will always be a legend in Fort Worth.
The history of Colonial Country Club is not the first time Hogan's and Leonard's names would be associated with Fort Worth golf, either. When Marvin Leonard first took up the game, he played at Glen Gardens Country Club, where a young Ben Hogan served as a caddy. When Hogan turned professional, Mr. Leonard financially supported him during his early years on the tour. Although Glen Gardens has since been acquired by TX Whiskey distillery, the legacy of Ben Hogan and Marvin Leonard in Fort Worth still lives on at another legendary country club in the area: Shady Oaks Country Club.
After such a successful venture with the development of Colonial, Marvin Leonard decided to build another country club in Fort Worth and acquired over 1,200 acres in the Westover Hills neighborhood in 1955.
Hogan, who had retired from playing full time by 1955 but still heavily involved in the game, assisted Mr. Leonard with the initial consultation for Shady Oaks. Since the area featured large hills and mounds, it would require several bulldozers to level off and make a quality golf course possible. Shady Oaks would be designed by Robert Trent Jones, one of the most prolific golf course designers of the 20th century.
Ben Hogan spent the majority of his post-Tour years at Shady Oaks Country Club. A photo of Mr. Hogan sits in the clubhouse where he sat to eat lunch almost every day. His locker, golf clubs, and memorabilia are still there to this day. He would give lessons off the 18th green and practice at Shady Oaks regularly. This bond between Mr. Hogan and Mr. Leonard would last until the latter gentlemen's death in 1970.
Today, Shady Oaks Country Club is still one of the most exemplary private golf clubs in Texas. There are two courses on the property: the championship 18-hole course and a short "Little Nine" course. The clubhouse is one of the most beautiful architectural sites you'll see in Fort Worth and the club offers a full-slate of amenities, including tennis, catering, fine dining, social activities and fitness center. Also, the real estate on Shady Oaks property, new Westover Hills, old Westover Hills, Westover Square's gated community, and the surrounding Westworth Village and Burton Hill neighborhoods are in high demand.
Ben Hogan's legacy in the Fort Worth area lives on today at the Ben Hogan Learning Center at Rockwood Park Golf Course. The program, ran by the First Tee of Fort Worth, teaches junior golfers values and etiquette through the game of golf. It is safe to say that Mr. Hogan will be a fixture of Forth Worth golf for generations to come.
The oak-lined fairways that comprise Diamond Oaks Country Club are also a staple in the Fort Worth golf scene. Located about eight miles northeast of downtown Fort Worth, in the Haltom City area, this is one of the more affordable country club experiences that doesn't compromise on hospitality or amenities. Opened in 1962, Diamond Oaks Country Club features a 40,000 square foot clubhouse ideal for events, parties, and weddings, an 18-hole championship golf course, fine dining, and one of the most expansive golf practice facilities in the city. A great place to invest in a first home or rental property as the surrounding properties can often be bought for $100 to $120 per square foot, a price-point that is seemingly going extinct in this thriving D/FW real estate market.
The great golf courses in Fort Worth, Texas are not limited to private country clubs. Some of the city's best courses are open to the public. One of the finest public golf course facilities in Fort Worth is Waterchase Golf Club. Located in the Bentley Village neighborhood, this Steve Plummer design offers a fair and fun challenge for golfers of all skill levels. Aside from traditional greens fees, Waterchase offers several tiers of memberships, allowing players to enjoy a great golf course as frequently as possible without the hassle of high initiation fees and food minimums. The Bentley Village neighborhood is also an attractive real estate area, perfect for first-home buyers.
Another local public course that deserves mention is The Golf Club at Champions Circle. Operated by the world-renowned golf course management company Troon Golf, this Beechwood Creek area 18-hole golf course features tall oaks, challenging creeks that meander throughout, and some of the best service you'll find anywhere. With annual passes and Player Development Programs available to all, the facilities at The Golf Club at Champions Circle are a true gem in Fort Worth. With several gorgeous homes and condos in the area, the real estate surrounding The Golf Club at Champions Circle offer perspective home buyers another area of town to search for that perfect fit.
Golf enthusiasts have a lot to be proud of in the Fort Worth area. The amazing history in golf that has taken place over the last 100+ years makes Fort Worth one of the finest cities in America to enjoy this game. The history of great golf courses and some of the best players to have ever lived permeates through every generation of Fort Worthians.
If you're looking to buy or sell a home on or around one of Fort Worth's prominent golf courses, the time is now to call the Chicotsky Real Estate Group. We know the areas inside and out, representing buyers and sellers with white glove service irregardless of the price point - as we believe luxury is an experience, not a price point. If you're looking for a real estate group that treats its clients like family, you'll want to call the Chicotsky Family to help you with your real estate needs.