No one has the power to look into the future, but for people with the right expertise and information sources information, we can make somewhat accurate educated guesses. As one of the top real estate groups in the Fort Worth area with years of experience working in the real estate market, we feel confident about forecasting what to expect in 2020.
Overall, next year's Fort Worth real estate market looks positive. The continued stable economic conditions and high-interest from businesses new and established, means more people are migrating into the area. A high population creates a strong demand for all types of Fort Worth real estate.
Let's look to the future of all topics real estate related in Fort Worth for the next year. We're going to break down:
Population Outlook
Job Market
Overall Housing Market
Median Residential Prices
Median Residential Days on Market
Inventory Trends
New Home Trends
Home Design Trends
Fort Worth's Population Outlook
Understanding population growth trends is essential for predicting the future of the real estate market. An increasing population stimulates demand for housing. This is the overarching direction of the past several years. Today Fort Worth is the 13th largest city in the United States, says the Census Bureau.
In "Fort Worth's booming growth refuses to slow down as city becomes 13th largest in U.S." by Bill Hanna, Fort Worth Mayor Betsy Price commented, "Fort Worth's rapid growth speaks to our incredible quality of life, business-friendly climate and affordable cost of living. Of course, substantial growth presents both great opportunities as well as new challenges to strategically manage our growth without compromising what makes Fort Worth a unique place to live, work, and play."
Numbers released by the Census Bureau in early 2019 showed the greater Dallas-Fort Worth-Arlington metroplex had the largest numeric growth with a gain of 131,767 in the Bureau's population estimates. That exceeded growth in the runner-up Phoenix-Mesa-Scottsdale metroplex in Arizona, which increased by 96,268.
Tarrant County ranks in the Census Bureau's top ten counties in the United States for numeric population growth for 2010 to 2018.
The Bureau cited "natural increase" as the main contributing factor to DFW's 2019 population increase, followed by domestic and international migration.
In the report, "North Texas to 2030: Extending The Trends," the authors find, "national forecasts of population and economic growth indicate that this region will continue to add residents and jobs well into the future."
The report forecasts an average annual population growth rate of 2.6% for these 30 years, reaching 4.1 million people and an additional 1.6 million households by 2030.
Taken together, for 2020, expect continued population growth into the Fort Worth area thanks to migration and natural population increases.
Fort Worth Job Market Trends
A strong economy directly correlates to a healthy housing market. People are more willing to invest in real estate when they feel stable and secure in their employment prospects.
The most recent month of data from the U.S. Bureau of Labor Statistics, August 2019, reported local nonfarm employment in the DFW metroplex rose 3.1 percent compared to the national rate of 1.4 percent. Specifically, in the Fort Worth-Arlington division, 15,000 new jobs were added during that twelve-month reporting period, a 1.5 percent gain. Over time, the employment rate has been steadily growing.
Meanwhile, Texas A&M's Real Estate Center (TAMU) reported the Dallas Fed's Texas Business-Cycle Index showed Fort Worth's seasonally adjusted rate slowed to 2.8 percent, citing a slowdown in hiring. Looking at the Bureau of Labor Statistics' September numbers does show a small 0.3 percent decline in year-over-year hiring, as well as a slight downward trend over the last three months.
However, overall the TAMU report shows the state sustained growth in its economy. The report also notes that only Fort Worth reported positive increases in statewide real hourly manufacturing wages. 
Best Places reported Fort Worth's job market has increased by 2.7 percent over the last year. Over the next decade, starting in 2020, the market is expected to grow by 41.5 percent.
This shows Fort Worth's job market is looking bright, both for current residents and those yet to call Fort Worth home.
The Fort Worth Housing Outlook
The residential real estate market has a healthy, positive outlook for 2020.
According to the Home Buyer Institute, "For both the city of Dallas and the surrounding area, [Zillow] has issued a more modest forecast stretching into the fall of 2020. They expect to see smaller price gains for this housing market over the next year, compared to the gains recorded during 2018 and 2019."
Overall, the housing situation is strong, but there is a lack of inventory for so-called "starter homes" as more millennials have the purchasing power to buy their first homes. This is leading to an inventory shortage in markets across the nation, especially at lower price points. Fort Worth is no exception.
Let's break the housing outlook down further. Please note any references to local monthly housing data come from the North Texas Real Estate Information Systems (NTREIS) Marketwatch reports for September 2019 and Q3 2019.
Real Estate Market Trends: Price Gains
The Dallas-Fort Worth area's home price gains signal a possible shift more towards a balanced market. As of August 2019, growth trailed the national average.
That does not mean that area home prices are not growing. In the DFW area, they rose 2.8 percent year-over-year in August 2019, which is less than the 3.2 percent gains reported in July 2019. In Fort Worth, they rose five percent.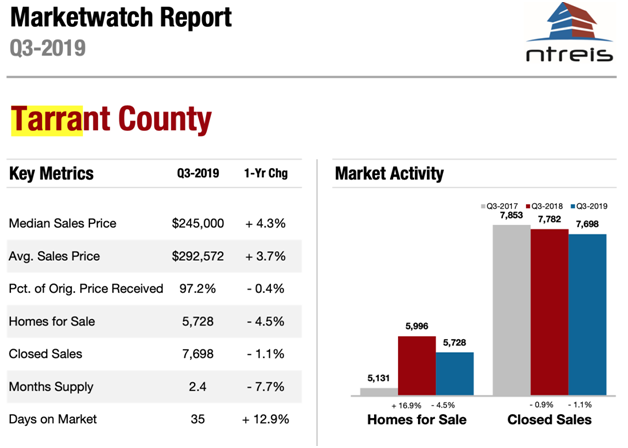 Specifically, for the city of Fort Worth, a recent projection calls for median home values to increase by 3.7 percent over the next year, compared to 5.9 percent over the past year.
Price appreciation gains have decelerated, says BizJournals, "both year over year and month over month."
"While the slowdown in appreciation occurred across the country at all price points, it was most pronounced at the lower end of the market," CoreLogic Chief Economist Frank Nothaft said in a prepared statement to the publication. "Prices for the lowest-priced homes increased by 5.5 percent, compared with August 2018, when prices increased by 8.4 percent. This moderation in home-price growth should be welcome news to entry-level buyers."
For September 2019, our most recent available month of data, it is clear home price gains are slowing year-over-year, even as they continue to increase. The median sales price in Tarrant County during the third quarter reached $245,000, a 4.3 percent growth from the prior year. For the year to date, the county is reporting only 2.8 percent growth in median prices.
Fort Worth Median Sales Price September 2019

In short, expect home prices continue rising, but most likely at a more tempered rate.
Fort Worth Market Trends: New Home Sales
New home sales, while an active market, have generally shown signs of a slow down during the year.
The most recent data released by HomesUSA.com says, "Last month, pending new home sales were lower in all four of the state's biggest new home markets."
"Homebuilding in Texas remains strong, and the only concern is the pending sales numbers, which continue to decline," says Texan Ben Caballero, CEO of Dallas-Ft. Worth-based HomesUSA.com in a statement.
Median new home prices were up month-over-month in the Dallas-Fort Worth area, at $373,776. However, a CoreLogic Market Condition Indicators analysis says as of August 2019 that DFW has an overvalued housing market.
Another indicator is the increase in vacant lot development and new construction permits. After a year-long decline in vacant lot development, DFW helped increase this figure 29.7 percent.
"Single-family construction permits hovered at a post-recession record high, increasing 9.9 percent quarter over quarter (QOQ). Permit activity through September, however, remained 2 percent below levels in the first nine months of 2018," reported the TAMU Real Estate Center in their Texas Housing Insight.
Dallas-Fort Worth ranked second in Texas' for total new construction permits, with 3,058 issued in September.
As new construction and vacant lot development rebounds, single-family private construction values increased three percent during the third quarter, says Texas A&M.
For 2020, expect steady new development and growth in new home construction. Demand will fuel the need for new housing.
Fort Worth Market Trends: Inventory
Fort Worth reported an inventory of homes for sale at 32,522 for September 2019, a 0.2 percent decrease over the prior year. Generally, available inventory has been on the rise year-over-year.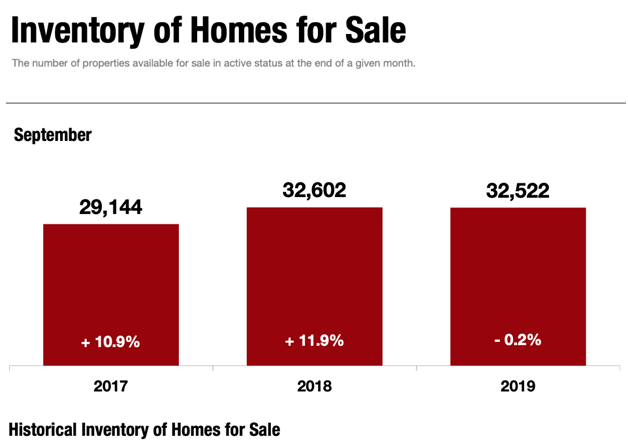 Tarrant County reported a 2.4-month supply during the third quarter of 2019, a 7.7 percent decrease from the prior year. For Fort Worth specifically, we reached a 3.4-month supply, which was the same as the preceding year.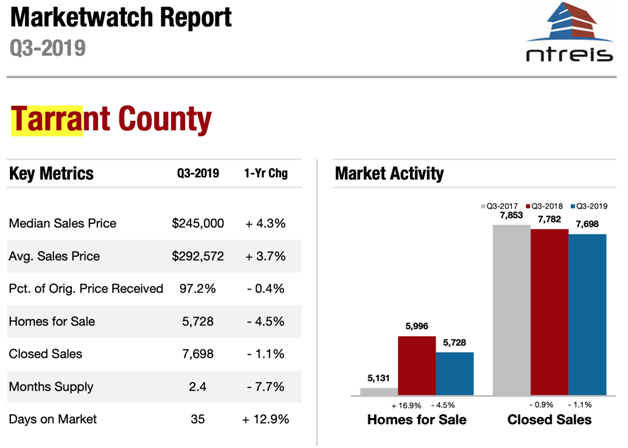 However, there is some concern about inventory on the horizon. The Washington Post wrote, "the national market appears to be heading for a new inventory shortage. The problem of limited listings has always been worse for entry-level houses."
The September 2019 report from Realtor.com raises concerns about inventory under $200K and consumers' desire for affordability. It also noted, "the inventory of homes priced between $200,000 and $750,000...has finally hit a tipping point in September, showing no growth over the past year, and is expected to decline into October.
Looking at Fort Worth's inventory over time, we can see a general increase in the number of homes available for sale, which is increasing the months' supply of inventory. However, this is an area to watch as we go into 2020. An increasing available resale inventory would help buyers, but persisting low inventory will continue impacting median home prices and affordability.
Fort Worth Market Trends: Days on Market
The latest NTREIS Marketwatch report has Tarrant County's average days on market as 35 for the third quarter. Zeroing in on September's latest report for Fort Worth, we reached 50 days on market, a 13.6 percent gain from the prior year. There is a direct correlation over time: as inventory increases, so has the days on the market.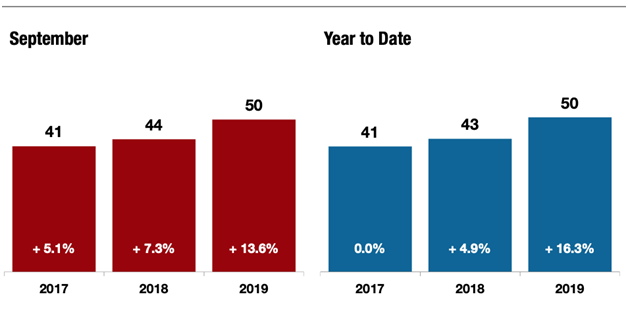 Fort Worth Days on Market September 2019
As long as inventory continues growing, expect the average days on market to mirror the trend. This means home sellers can expect it will take longer to bring their homes under contract in 2020.
Mortgage Rate Trends for 2020
Next year is a presidential election year. There is a myth floating around that election years bring lower mortgage rates as candidates try to inspire consumer confidence in the housing market.
Please remember: the Federal Reserve does not set mortgage rates.
What does happen is market uncertainty does influence market rates.
"On average, the DJIA grows 10.4% in years prior to an election. Compare that to years of presidential elections, where growth slows to an average of 6%. This reflects a more hesitant attitude, largely created out of election uncertainty," says Chris Doering, a mortgage professional. However, his analysis of 30-year fixed-rate mortgages shows little influence on rates based on election years.
What about right now? Mortgage rates are near historic lows. Freddie Mac's most current mortgage rates are 3.75 percent. The general consensus is rates will remain under four percent through 2020.
Forecasts from Forbes predict the mortgage rates over the next year will likely stay close to this range, with some fluctuation between 3.6 percent and 3.9 percent. 
Lawerence Yun, chief economist for the National Association of Realtors (NAR), predicted by the middle of 2020, the rate on a 30-year loan will be 3.7 percent. He told The Mortgage Report, "Rates will be higher if inflation picks up due to tariffs filtering up as higher prices. The effect is likely to be muted with a slower economy, but do not underestimate the negatives of higher tariffs."
Stable and lower mortgage rates will encourage real estate market activity.
Home Design Trends for 2020
Knowing the latest trends helps real estate investors and sellers stage their properties to appeal to the current buyer's tastes. But home design trends can be fickle. Think about mid-century modern: in, out, and back again.
Interior design and architectural experts predict a continuation of a current trend towards clean and simple materials, often with an organic or handmade touch. Some call it "farmhouse chic." It incorporates natural elements, like wooden side tables or natural fiber rugs, with industrial touches like metals and concrete. 
Another trending design theme is a "back-to-nature" emphasis on decorative choices. Think about adding natural elements in decorative choices: terracotta, succulents, stone, ceramics, and clays. The intent is to bring the outdoors inside.
Paired with a push towards warmer, organic elements is the use of the color green.
"I've been talking about the reemergence of green for over a year, and it continues to come on strong," says Ann Bridgman of Just the Thing Decorating. "The demand for it is softer in North Texas, but the trend is definitely coming! All shades from pale green tea to deep shadowed forest floor green, it mixes with the warm neutrals in beautiful, natural ways."
Another uptick movement is incorporating more smart home technology. Voice-activated tech is the wave of the future. The seamless integration with our interior and exterior elements with mobile technology products like Alexa or Google Home will become more widespread. See more smart appliances, smart locks, and integrated systems. 
Creating your trend for 2020
When you step back and look at the big picture, the Fort Worth housing market will enter 2020 in a robust and stable position. Continued forecasted job market and population growth mean the demand for housing should be healthy throughout the year. Steady and low mortgage rates will encourage first-time home buyers, refinancing, and perhaps bolster the second-home market.
Even if the activity slows and home appreciation gains calm, the overall trend will remain upward. Homeowners can expect to gain value from their properties.
Sellers may have to wait longer for their homes to come under contract, but they will. The right real estate professionals can make this happen easier. Consult with the Chicotsky Real Estate Group, whether you're thinking of buying or selling in the new year.
Image sources:
Source of all NTREIS images:
http://www.ntreis.net/documents/NTREISSTATS_1510201918547.pdf
For Q3 Images: 
http://www.ntreis.net/documents/Statistics_15102019185758.pdf